Saturday, June 30, 2018
PHOTOS LINK
Segments posted on ASGN Playlist



Thank you Tommy Emmanuel, Jack Pearson, Rory Hoffman, Keith Medley, Thom Bresh, Cenk Erdogan, Mike Dawes, Muriel Anderson and Monte Montgomery for a great show and we were able to raise funds to support music education via the Music for Life Alliance. A big thank you to our supporters: Sam Ash Music, GHS Strings, Guitar Player Magazine, AER, Yamaha Guitars, ToneWoodAmp, NAMM, and Maximum Printing.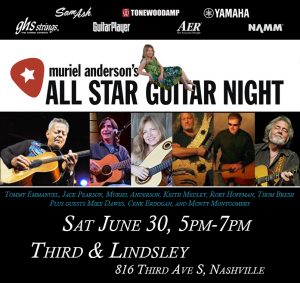 Photos Page, and videos posted at ASGN playlist here: youtube.com/murielanderson
---
The Sponsors
Thank you to Guitar Player Magazine, Sam Ash Music, GHS Strings, AER, Yamaha Guitars, ToneWoodAmp, NAMM, and Maximum Printing for supporting the All Star Guitar Night benefit concert for the Music for Life Alliance.
The Venue: 3rd & Lindsley
3rd & Lindsley is a live music venue located near downtown Music City. It hosts nightly performances from it's eclectic roster of acts and offers food and drinks.
The Players
Muriel Anderson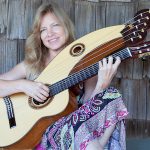 Founder and host of the ALL STAR GUITAR NIGHT® and founder of the Music for Life Alliance charity, Muriel Anderson is widely respected as one of the premier fingerstyle guitarists/composers on the scene today. She is the first woman to have won the National Fingerpicking Guitar Championship. She enjoys touring as is evidenced by her "recipes from the road" on her website. She uses GHS Muriel Anderson signature strings on both her guitar and harp guitar. www.murielanderson.com
Tommy Emmanuel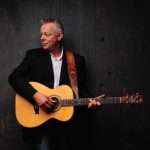 Tommy Emmanuel has achieved enough musical milestones to satisfy several lifetimes. Or at least they would if he was the kind of artist who was ever satisfied. At the age of six, he was touring regional Australia with his family band. By 30, he was a rock n' roll lead guitarist burning up stadiums in Europe. At 44, he became one of five people ever named a Certified Guitar Player by his idol, music icon Chet Atkins. Today, he plays hundreds of sold-out shows every year from Nashville to Sydney to London.
Jack Pearson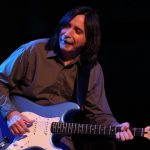 Guitarist, singer, songwriter, producer, session-musician…this only begins to describe Jack Pearson. He is best known as an A-list blues/rock lead and slide guitarist but Jack is also a soulful, creative songwriter and artist in his own right.
As a songwriter and solo artist, his songs are moving and honest while his grooves make it hard to sit still for very long. Adept at many musical genres and instruments, he possesses the ability to take each to a higher level. His playing is sophisticated while full of intensity and passion, leaving audiences cheering and musicians smiling – shaking their heads in disbelief at his seemingly effortless skill and talent. Blues Revue calls him a "world-class guitarist" and Rolling Stone brags on his "light touch and fluid, jazzy style…dynamic slide playing".
Keith Medley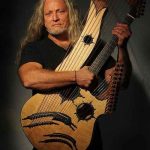 Keith Medley is a creative spirit in numerous ways and a master of several artistic disciplines. But he remains a modest and humble, yet charismatic person who possesses a drive and determination to fulfill his dreams regardless of the obstacles and challenges he encounters. He is a master craftsman and woodworker, a skilled luthier who designs acoustic and electric instruments, a talented guitarist on any variation of stringed instruments, as well as an accomplished composer and performer.
Rory Hoffman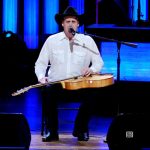 Rory Hoffman is a Nashville based multi-instrumentalist who has played with people like Ricky Skaggs, Kathy Mattea and John Cowan, John Jorgenson, and Kacey Musgraves. He's a 2-time winner of Musician of the Year from Nashville's ICMA, and is a 2012 inductee into the South Dakota Country Music Hall of Fame.
Thom Bresh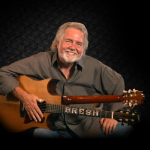 From a Southern California stage at the age of three, with a loosely strung ukulele, to one of the many great concert halls in the world today, armed with just a guitar (he refers to it as "My Band"), Thom Bresh, the 2001 inductee into the "Thumbpickers Hall of Fame" and his six string friends have been entertaining people for a lifetime. Whether he is leaning against a wall telling you how his day went or shaking the walls of a concert hall with that famous hard driving thumb, first and foremost, you will be entertained. He is equally at home on stage in a stadium or on a couch in someone's living room. Add to this scenario a deep, witty and gritty singing voice set in the middle of that relentless, powerful groove and you have a genuine force to deal with.
Mike Dawes
Mike Dawes (ENG) is hailed as one of the world's finest and most creative modern fingerstyle guitar performers. His acclaimed solo music has gained over 50 million hits on popular video sharing sites and since the release of his debut album in 2013 he has toured almost every continent on the planet, with an average of 150 concerts per year. Mike needs to be seen live to be believed. His ability to create the most unusual tones and textures simultaneously from a single acoustic guitar leaves fellow musicians stunned. Bass, melody, harmony and percussion all seamlessly produced using his signature technical yet intrinsically musical guitar technique.
Cenk Erdogan
Cenk Erdogan is a composer, arranger, and fretless player from Turkey. He's played and recorded with Trilok Gurtu, Dave Weckl, Kai Eckhardt, Eric levy, and Jason Lewis and conducts and arranges the orchestra of "Sezen Aksu," the diva of Turkish popular music
Monte Montgomery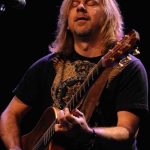 You can call it prescient or predetermined, but when Terry Lickona, undisputed tastemaker and producer of Austin City Limits, plucked a then relatively unknown guitar talent to tape a segment of the legendary show, one had the sense that this was just the beginning. Since that jaw dropping performance, Monte Montgomery has embarked on an almost fantasy like rock and roll roller coaster ride filled with dizzying accomplishments and mind blowing accolades. Named one of the "Top 50 All-Time Greatest Guitar Players" by Guitar Player Magazine, he's been called everything from "guitar-god" to the "answer to the Fermi Paradox". Still, despite the six-string notoriety, Monte is not content to rest on his musical laurels. "I've resisted temptation to be just that guitar gunslinger from Austin, Texas," says Monte. "I strive to have more depth, to be more layered as an artist, songwriter and singer."