About All Star Guitar Night
Saturday, June 25, 2016
Nashville, Tennessee | 3rd & Lindsley
We are very grateful to everyone who came out to our June 2016 concert to benefit the Music for Life Alliance non profit charity, helping grassroots organizations get instruments and lessons to kids in need. At a sold-out show, Muriel presented Vince Gill with Guitar Player Magazine's prestigious Legends Award. Thank you especially to Michael Steele, our volunteers, artists, and to Sam Ash Music – we had lively participation in the silent auction. And thank you to everyone who contributed to make this evening happen!
Muriel
---
Sponsors
Sponsored by Guitar Player Magazine, Sam Ash Music, and NAMM.
The Venue: 3rd & Lindsley
3rd & Lindsley is a live music venue located near downtown Music City. It hosts nightly performances from it's eclectic roster of acts and offers food and drinks.
The Players
Muriel Anderson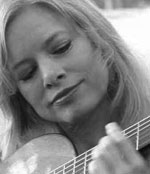 Founder and host of the ALL STAR GUITAR NIGHT® and founder of the Music for Life Alliance charity, Muriel Anderson is widely respected as one of the premier fingerstyle guitarists/composers on the scene today. She is the first woman to have won the National Fingerpicking Guitar Championship. She enjoys touring as is evidenced by her "recipes from the road" on her website. She uses GHS Muriel Anderson signature strings on both her guitar and harp guitar. www.murielanderson.com
Vince Gill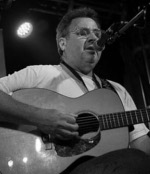 Vince Gill is famous for his top-notch songwriting, world-class guitar playing and warm, soaring tenor, all wrapped up in a quick and easy wit. Gill achieved his big breakthrough in 1990 with "When I Call Your Name," which won both the Country Music Association's Single and Song of the Year award as well as a Grammy. Since then, he has won 17 more CMA honors, including Song of the Year four times – making him the most-awarded artist in that category in CMA history. www.vincegill.com
Keb Mo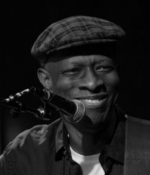 As a singer, songwriter, instrumentalist, producer, actor, mentor and consistently excellent performer, Keb' Mo' is a true American icon. He handles himself with grace and style as evidenced in this entire collection, from the unique "hot pink" album packaging to the feeling the music inspires while listening to it. His combination of masterful, anecdotal writing skills, distinctive guitar versatility and rich, resonant, blues-soaked vocals are a testament to his longevity as a singer/writer. www.tajmo.com
Jack Pearson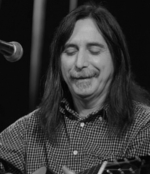 A native of Nashville, Tennessee, Jack has been influenced by many styles of music and his knowledge of the history of each allows him to deliver a "true to the tradition" performance. During his 40 year career he has mastered a wide range of instruments including electric, slide, acoustic and resonator guitar, mandolin, old time banjo and Hammond organ, which he incorporates into many musical styles such as blues & roots music; jazz & bebop; pop & rock; and bluegrass & country. His versatility and musicianship keep his live shows and recordings fresh and exciting. www.jackpearson.com
Bryan Sutton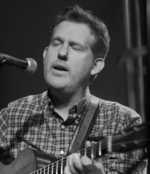 Bryan Sutton is the most accomplished and awarded acoustic guitarist of his generation, an innovator who bridges the bluegrass flatpicking traditions of the 20th century with the dynamic roots music scene of the 21st. His rise from buzzed-about young sideman to first-call Nashville session musician to membership in one of history's greatest bluegrass bands has been grounded in quiet professionalism and ever-expanding musicianship. www.bryansutton.com
David Grier
Born in Washington, D.C. in 1961, a family move to Nashville at age 3 fully immersed David Grier into the bluegrass music world, and at age 6, he began playing the guitar. Today, he is regarded as one of the premier acoustic guitarists in the world, along with his early influences, Doc Watson, Tony Rice, and family friend Clarence White. Recognized by Acoustic Guitar Magazine in 2000 as one of the Artists of the Decade, and named Guitar Player of the Year three times by the International Bluegrass Music Association. As of today Grier has played on four Grammy Award-winning albums.. www.davidgrier.com
John Knowles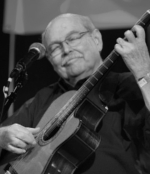 John Knowles has worked with the finest fingerstyle and classical guitarists including Chet Atkins, Jerry Reed, Lenny Breau and the Romero Family. His music has been recorded by Chet, Jerry, the Romero Family and James Galway. His Gorilla Song (co-written with his son Jay) is an international hit with recordings by Raffi and XUXA. Guitarists around the world subscribe to and learn from his FingerStyle Quarterly. John's work has won a Grammy and two Emmy nominations. In 1996, Chet Atkins awarded John the first Honorary CGP (Certified Guitar Player) degree and in 2004, John was inducted into the National Thumb Picker's Hall of Fame for the second time. John earned his PhD in physics from Texas Christian University in 1968. www.johnknowles.com
Thom Bresh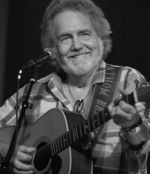 From a Southern California stage at the age of three, with a loosely strung ukulele, to one of the many great concert halls in the world today, armed with just a guitar, Thom Bresh, the 2001 inductee into the "Thumbpickers Hall of Fame" and his six string friends have been entertaining people for a lifetime. He is equally at home on stage in a stadium or on a couch in someone's living room. Add to this scenario a deep, witty and gritty singing voice set in the middle of that relentless, powerful groove and you have a genuine force to deal with. Thom hosted his own TV show and as a producer he has received two Grammy nominations and one for an Academy Award.
Johnny Hiland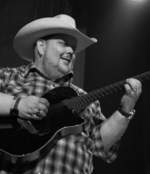 Johnny Hiland grew up in the small town of Baileyville, Maine. He was born legally blind with an eye disease known as nystagmus, which did not allow him to grow up like most children. As a teen, Johnny spent countless hours learning and developing his own blend of chicken pickin,' rock, blues, and swing. Johnny has released several albums, played the Grand Ole Opry and ended up with his own guitar model with PRS Guitars. www.johnnyhiland.net
Daniel Champagne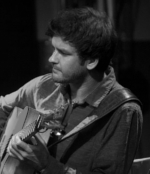 The young Australian singer, songwriter and one-of-a-kind guitar virtuoso first picked up his instrument of choice as a five-year-old, began writing songs at 12 and at 18 he left school, turned professional and hit the road. The next five years saw him traversing North America, the United Kingdom, Europe, New Zealand and of course, his homeland Australia. Now he is regarded as a leading light in acoustic music, with a firm reputation for making festivals buzz, holding crowds in his palm, dropping jaws and breaking guitars wherever he goes. www.danielchampagnemusic.com
A Few Words from our Valued Sponsors
"All Star Guitar Night is always a fantastic celebration of guitar talent and the perfect venue to present Guitar Player Magazine's Legends award. Additionally, the sheer volume of marketing and promotion done around the event also serves to put our brand in front of literally thousands of guitar fans. It's a great show and a great cause!" John Pledger, Music Player Network
"Year after year ASGN meets and exceeds our expectations for the level of excitement they create for a concert event. Reverend Guitars proudly sponsors the show, and most importantly, our dealers consistently tell us it was the highlight of their NAMM experience." Ken Haas, Reverend Musical Instruments
"Yamaha is proud to be associated with Muriel Anderson's All Star Guitar Night. Muriel and TrueFire always host an incredible show with an amazing lineup of incredible guitarist that come together for a worthy cause. For Yamaha and our top guitar dealers, the All Star Guitar Night is the highlight of the NAMM show!" Dennis J. Webster, Yamaha Corporation of America
"All Star Guitar Night is truly one of the highlights the NAMM Show for our dealers and customers. It's like the Extreme Games for guitar players – it's always entertaining, and always delivers top-shelf exposure for our brand! We're very glad that Greg Bennett Guitars is a part of this industry standard." John Hawkins, Samick Music Corporation