January 26th, 2013  | Anaheim, CA | Marriott Ballroom
Thank you so much for everyone who attended and supported the Winter ASGN show in Anaheim, CA. We had an amazing number of attendees both viewing the show and participating in the silent auction. Thank you to everyone who made this night happen and making it one of the most successful All Star Guitar Nights ever.
View Photos from this Show  |  Watch This Show
---
Sponsors
Yamaha Guitars presented this fabulous evening of music and entertainment. Also sponsoring were GHS Strings, Rocktron, Guitar Player Magazine, Reverend Guitars, Kyser Musical Products, AER Amps, Luna Guitars, EKO Guitars, Kala Brand Music Co., U-Bass, Sony Creative Software, Sony Pro Audio, Procraft Media, NAMM and our producer, TrueFire.
The Venue: Marriott Anaheim
The Marriott Anaheim hotel is conveniently located in the heart of the Anaheim Resort District. The Winter All Star Guitar Night was hosted in the Grand Ballroom with the Silent Auction accessible from the main hallway lobby.
The Players
Muriel Anderson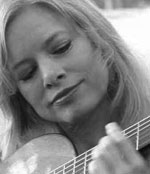 Founder and host of the ALL STAR GUITAR NIGHT® and founder of the Music for Life Alliance charity, Muriel Anderson is widely respected as one of the premier fingerstyle guitarists/composers on the scene today. She is the first woman to have won the National Fingerpicking Guitar Championship. She enjoys touring as is evidenced by her "recipes from the road" on her website. She uses GHS Muriel Anderson signature strings on both her guitar and harp guitar. www.murielanderson.com
Ian Ethan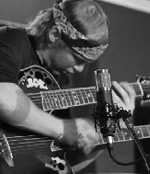 Drawing on a diverse musical background including piano, drums, orchestral percussion, saxophone, electric guitar and bass, Ian Ethan's strikingly-unconventional, self-invented approach to the double-neck guitar is both magical to hear and fascinating to watch. His performances are visually intriguing to say the least, and his sincere desire to accurately communicate the harmonically rich, multi-layered music of his composing impelles him every step of the way. www.ianethan.com
Robben Ford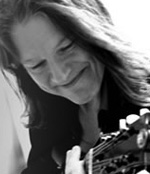 Robben Ford is one of the premier electric guitarists today, particularly known for his blues playing as well as his ability to be comfortable in a variety of musical contexts. A five-time Grammy nominee, he has played with artists as diverse as Joni Mitchell, Jimmy Witherspoon, Miles Davis, George Harrison, Phil Lesh, Bonnie Raitt, Claus Ogerman, Michael McDonald, Bob Dylan and more. www.robbenford.com
Mimi Fox
Internationally renowned guitarist/composer/recording artist Mimi Fox has been named a winner in 6 consecutive Downbeat Magazine international critic's polls and has been recognized by writers and colleagues alike as one of the most eloquent guitarists on today's scene. Mimi has performed/recorded with Branford Marsalis, Joey DeFrancesco, Diana Krall, Stevie Wonder and countless others. Guitar player magazine said, "Mimi is a prodigious talent who has not only mastered the traditional forms, she has reinvigorated them." www.mimifoxjazzguitar.com
Jude Gold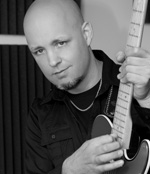 Musicians Institute Guitar Program Director and Guitar Player Magazine Los Angeles editor Jude Gold loves any music with a huge groove, which is perhaps why he is so drawn to percussive, "full contact" funk styles. At this year's All Star Guitar Night, Jude (also known for his sideman work with Kristin Chenoweth, Billy Sheehan, DJ Spooky, and DJ Miguel Migs) will perform his iconoclastic spank-guitar rendition of Lipps Inc.'s famous dance song,"Funkytown." www.judegold.com
Stu Hamm
Stu has firmly established himself as one of the foremost technical masters of the bass guitar, and his performances with Steve Vai, Joe Satriani and the all-bass show BX3 have wowed audiences all over the world. It was playing live on tour with Satriani that brought Hamm"s skills to national attention. Since then, he has recorded with Satriani and other rock/fusion artists and released his own solo recordings. www.stuarthamm.net
Carl Harvey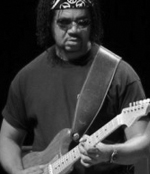 Carl has been the as its electrifying guitarist for Toots and the Maytal for over two decades. He has performed in countless live tours, played on six different albums of which two were nominated for the "Grammy Awards". Carl kept his production projects going between tours with the Maytals and produced several national hits of his own. His efforts garnered him the "Juno Award" in Canada, the highest music award in the nation. After many years in the studio, Carl has become an accomplished recording engineer with extensive experience in everything from hip-hop to jazz. www.carlharvey.net
James Hill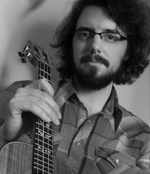 James has already made a career out of knocking worlds against each other. His technical prowess on ukulele is achieved through attacking what is mostly regarded as a lowly folk instrument with the seriousness and nuance of technique usually associated with the highest levels of virtuosity on, say, classical violin or piano. His entertaining and unpredictable solo concerts have a world-wide audience that would be envied by many wannabe rock stars and his online casino inspirational music seminars have made him something of a ukulele-based motivational speaker. www.jameshillmusic.com
Toots Hibbert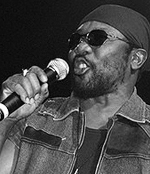 Named on of the 100 Greatest Singers by Rolling Stones Music, Toots Hibbert, and his band, the Maytals, cut classic singles such as "Sweet and Dandy" and "Monkey Man," which set a template for a couple of generations of ska revivals and garnered the Jamaican singer well-earned comparisons to Otis Redding. Toots is called "one of the most powerful and original soul singers ever," singling out his "gruff, classic style.www.tootsandthemaytals.com
Stanley Jordan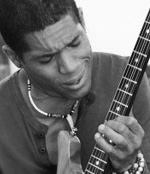 In a career that took flight in 1985 with immediate commercial and critical acclaim, guitar virtuoso Stanley Jordan has consistently displayed a chameleonic musical persona of openness, imagination, versatility, respect and maverick daring. Be it bold reinventions of classical masterpieces or soulful explorations through pop-rock hits, to blazing straight ahead jazz forays and ultramodern improvisational works—solo or with a group—Jordan can always be counted on to take listeners on breathless journeys into the unexpected. www.stanleyjordan.com/
Bakithi Kumalo
Bakithi Kumalo is a South African bassist, composer and vocalist who has worked with a wide variety of diverse artists including Gloria Estefan, Herbie Hancock, Chaka Khan, Harry Belafonte, Cyndi Lauper and Paul Simon. Kumalo is most known for his fretless bass playing on Paul Simon"s 1986 album Graceland, in particular the bass run on "You Can Call Me Al".
Tierra Negra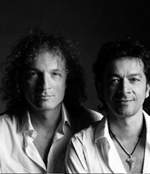 In the world of modern Flamenco, few artists have attained the heights of Tierra Negra. Founded by the two German guitarist Leo Henrichs and Raughi Ebert 1997. Tierra Negra is often cited as the protagonists of Flamenco Nuevo, the new wave. Tierra Negra best online casino may infuse their sound with elements of folklore, jazz and even pop, but the theme never strays far from the infectious rhythm and melody of Rumba-Flamenco. www.tierranegra.de
Gil Parris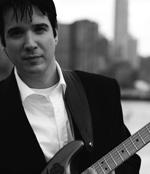 Guitar virtuoso Gil Parris shines in many musical idioms. Gil is one of very few artists that have nationally released albums in over four different genres: R&B, smooth jazz, traditional jazz and blues. Gil"s first artist-driven Hot Licks video, "Modern Blues Guitar" has been a bestseller for over three years, and he is part of their national video, "Masters of the Stratocaster." In addition, Gil was the lead guitarist for the seminal jazz/rock band Blood, Sweat & Tears, playing to thousands, and appears extensively on their Christmas album. www.facebook.com/gil.parris
Massimo Varini
Massimo Varini a thoroughly eclectic musician and character, moreover known to aficionados of his work for having played the guitar on some of the finest Italian records. It is impossible not to have ever heard the notes from his guitar: it"s his guitar on the albums and alongside artists of the calibre of Biagio Antonacci, Andrea Bocelli, Mina, Adriano Celentano, Gianni Morandi, Loredana Bertè, Marco Masini, Ornella Vanoni, Nek, Gianluca Grignani, Laura Pausini, Ivano Fossati, Eros Ramazzotti, Vasco Rossi (just to name a few)… and many, many more. www.massimovarini.it
Phil X
Phil X has recorded with Alice Cooper, Daughtry, Kelly Clarkson, Avril Lavigne and Chris Cornell and performed with Tommy Lee, Stewart Copeland, Rob Zombie/Lionel Richie (The Tonight Show with Jay Leno) and Bon Jovi (filling in for Richie Sambora in May 2011). His band, Phil X & The Drills, have released 2 cd"s and have one on the way bringing the ROCK to a rapidly growing worldwide fan base. www.philx.tv
A Few Words from our Valued Sponsors
"All Star Guitar Night is always a fantastic celebration of guitar talent and the perfect venue to present Guitar Player Magazine's Legends award. Additionally, the sheer volume of marketing and promotion done around the event also serves to put our brand in front of literally thousands of guitar fans. It's a great show and a great cause!"  John Pledger, Music Player Network
"Year after year ASGN meets and exceeds our expectations for the level of excitement they create for a concert event.  Reverend Guitars proudly sponsors the show, and most importantly, our dealers consistently tell us it was the highlight of their NAMM experience."  Ken Haas, Reverend Musical Instruments
"Yamaha is proud to be associated with Muriel Anderson's All Star Guitar Night. Muriel and TrueFire always host an incredible show with an amazing lineup of incredible guitarist that come together for a worthy cause. For Yamaha and our top guitar dealers, the All Star Guitar Night is the highlight of the NAMM show!"  Dennis J. Webster, Yamaha Corporation of America
"All Star Guitar Night is truly one of the highlights the NAMM Show for our dealers and customers. It's like the Extreme Games for guitar players – it's always entertaining, and always delivers top-shelf exposure for our brand! We're very glad that Greg Bennett Guitars is a part of this industry standard."  John Hawkins, Samick Music Corporation