Saturday, June 19th, 2010  |  Wildhorse Saloon, Nashville, TN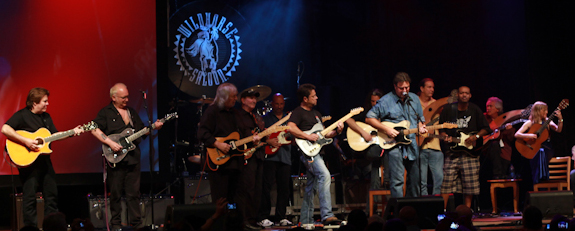 Thank you so much for everyone who attended and supported the Summer ASGN show in Nashville, TN. It was a fantastic night, at an amazing venue filled with unbelievable talent, including a special presentation of Guitar Player Magazine's 2010 LEGEND AWARD to James Burton. We had an amazing number of attendees both viewing the show and participating in the silent auction. Thank you to everyone who made this night happen.
View Photos from this Show Watch Video from this show
The Venue: The Wildhorse Saloon

Located in downtown Nashville, the Wildhorse Saloon is Nashville's #1 Dining and Entertainment destination and a mecca of entertainment in America. The Wildhorse Saloon turned a three-level historic warehouse into a 66,000 square foot live music and dance destination. The Wildhorse is simultaneously a restaurant, bar, concert site, dance venue and TV studio and it was the perfect place to host the ASGN Summer Show.
The Sponsors
We want to extend a huge thank you to our sponsors this year: Yamaha Guitars (presenting sponsor), Guitar Player Magazine, GHS Strings, Rocktron, Saint Blues Guitar, Reverend Guitars, St Louis Music, Shubb Capos, NAMM, and Access Bags and Cases, Fender.
The Players

Muriel Anderson
Widely respected as one of the country's foremost guitarists. She is host and originator of the renowned "Muriel Anderson's ALL STAR GUITAR NIGHT®" as well as founder of the Music for Life Alliance. For the past 14 years, Muriel Anderson's All Star Guitar Night concert series has brought together the world's best guitar players and the music community in support of a great cause. www.murielanderson.com
James Burton
A member of the Rock and Roll Hall of Fame since 2001, Burton has also been recognized by the Rockabilly Hall of Fame. Critic Mark Demming writes that "Burton has a well-deserved reputation as one of the finest guitar pickers in either country or rock… one of the best guitar players to ever touch a fretboard." Since the 1950s, Burton has recorded and performed with an array of notable singers, including Elvis Presley, Johnny Cash, John Denver, Jerry Lee Lewis, and Elvis Costello. www.james-burton.net
Tierra Negra
In the world of modern Flamenco, few artists have attained the heights of Tierra Negra. Founded by the two German guitarist Leo Henrichs and Raughi Ebert 1997. Tierra Negra is often cited as the protagonists of Flamenco Nuevo, the new wave. Tierra Negra may infuse their sound with elements of folklore, jazz and even pop, but the theme never strays far from the infectious rhythm and melody of Rumba-Flamenco. www.myspace.com/tierranegra
Doyle Dykes
Doyle is one of the most convincing cross-genre fingerstylists today. He successfully metes out Jazz, Latin, Gospel, Hawaiian, and Country arrangements from his nylon and steel-string guitars with equal grace and aplomb. Although influenced by a wide variety of musical styles and musicians, Doyle has developed a distinct, recognizable sound that amazes audiences with skill while capturing hearts with sincerity and soul. www.doyledykes.com
Reeves Gabrels
Reeves is a guitarist whose style combines the visceral energy of rock, the harmonic sophistication of jazz, the emotional honesty of blues and country, and an ear for the unusual. Gabrels maintained a wide-ranging career, playing with David Bowie for 13 years and independently has achieved notoriety as a composer/songwriter, musical collaborator, and solo performer/producer. www.reevesgabrels.net
Stephen Bennett
Whether playing his great-grandfather's harp guitar, his 1930 National Steel or a standard 6-string, Stephen Bennett is a musician to hear. His playing has won awards and critical praise. In live performance and on record, his diverse musical influences and interests are joined with a lifelong love affair with the sound of guitar strings.
www.harpguitar.com

Andy Wahlberg
Andy's musical career has spanned over 25 years, more than 3000 concerts and performances nationwide, 4 albums and hundreds of television and radio appearances. Andy is a born showman…with songs of humor and humanity, and a stage presence bigger than life and has performed on stage with groups such as Chicago, Spyra Gyra, Firefall, Hall and Oates, Don McLean and the Spinners. www.harpguitarguy.com
Brent Mason
Brent is one of the most recorded guitarists in history. As well as being a Grammy Award winning artist he is also 16 times winner of the Academy of Country Music, the CMA, a NAMMIE winner and for many years has won the annual Music City Allstars Award. Brent is well-known and respected throughout the music industry. His masterful and versatile playing of electric, acoustic and classical guitar sets the bar of excellence for professional and aspiring guitarists alike. www.brentmason.com
Alex Skolnick
Alex recorded his first album with his band Testament. What followed were five albums and countless tours with, among others, Megadeth, Slayer, Judas Priest, and White Zombie. Alex received critical acclaim for his lead guitar work, which had been inspired by heroes such as Eddie Van Halen and Randy Rhoads, ranking high in many guitar magazine polls, often as 'Best Thrash Guitarist' and 'Most Underrated Guitarist.' www.alexskolnick.com
Joe Dalton
When country guitar master Joe Dalton picks up a six-string; everyone listens. He's not only a country guitar wizard, he's also an accomplished drummer, and keyboardist. Dalton has written feature articles for Guitar Player Magazine, How to Play Guitar and Fingerstyle Guitar. He is a clinician for C.F. Martin Guitars, Aria Guitars, Picato Strings, Pignose Amplifiers, Seymour Duncan Pickups, Quick Lessons, GC Records and the Chet Atkins Appreciation Society.
Adam Nitti
Adam Nitti is a bassist, producer, composer, and music educator based out of Nashville, TN. His musical experiences have allowed him to become active in the Nashville recording scene, and he has more recently become more involved in producing independent artists on a regular basis. In addition to being a performer, composer, and producer, Adam is also Chief Learning Officer for MusicDojo.com, an interactive online music school. www.adamnitti.com
Eddie Bayers
Establishing himself in Nashville as one of the top studio drummers, Eddie has worked with some of the biggest names in the music industry, including Vince Gill, George Strait, Alan Jackson, Steve Winwood, Peter Frampton, Bob Seger, Trisha Yearwood, Garth Brooks, Kenny Chesney, and more. Playing on hundreds of gold and platinum albums and numerous movie soundtracks, he received the Academy of Country Music Drummer of the Year Award for 11 straight years. www.eddiebayers.com