Kenny Burrell
Guitar Player Magazine was excited and honored to present the 2015 Certified Legend Award to Mr. Kenny Burrell at the Winter NAMM show 2015. Editor-in-Chief Michael Molenda said, "I'm extremely honored, because tonight we're going to celebrate a grand master of tone, taste, and phrasing."
Molenda reports that Kenny Burrell recorded on more than 400 albums, he's played with virtually every master of jazz, he's done 108 albums as a band leader, he's won a Grammy, he was awarded a NEA Jazz Master Fellowship Award, he's paying it forward by being a professor at UCLA as the head of the jazz studies school there, and pretty much anyone who's played guitar has been influenced by this man someway.
Some wonderful remarks about Kenny are as follows:
"Kenny Burrell is the greatest guitarist in the world, and he's my favorite." – B.B. King
"Burrell is the grand master of jazz guitar." – Dizzy Gillespie.
"That's the sound I'm looking for!" – Jimi Hendrix.
The Legend Awards go to players who have created a legacy of their music on the world of guitar and music at large. Recent recipients include Robben Ford, James Burton, Tommy Emmanuel, Larry Carlton, Nokie Edwards, Les Paul, Duane Eddy, and Dick Dale.
Please join us in applauding Kenny Burrell on his much-deserved award and contribution to our musical history. See the special award in video below: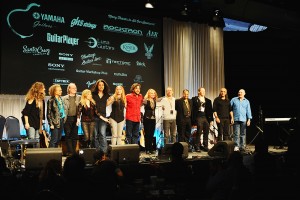 Saturday, January 24, 2015
Anaheim, California | Marriott Ballroom
Thank you so much for everyone who attended and supported the Winter ASGN show in Anaheim, CA. We had an amazing number of attendees both viewing the show and participating in the silent auction. Thank you to everyone who made this night happen and making it one of the most successful All Star Guitar Nights ever.
Yamaha Guitars presented this fabulous evening of music and entertainment. Also sponsoring were GHS Strings/Rocktron, Guitar Player Magazine, Steve Clayton, The Heritage Guitar Inc. of Kalamazoo, Kyser Musical Products, AER, Luna Guitars, Santa Cruz Guitar Company, Sony Creative Software, Sony Pro Audio, Tectonic Audio Labs, Chapman Stick, Guitar Workshop Plus, NuMuBu, Fender, Taytrix, Bob Cerceo, LKR, NAMM, and our producer TrueFire.