About All Star Guitar Night
Saturday, January 24, 2015
Anaheim, California | Marriott Ballroom
Thank you so much for everyone who attended and supported the Winter ASGN show in Anaheim, CA. We had an amazing number of attendees both viewing the show and participating in the silent auction. Thank you to everyone who made this night happen and making it one of the most successful All Star Guitar Nights ever.
---
Sponsors
Yamaha Guitars presented this fabulous evening of music and entertainment. Also sponsoring were GHS Strings/Rocktron, Guitar Player Magazine, Steve Clayton, The Heritage Guitar Inc. of Kalamazoo, Kyser Musical Products, AER, Luna Guitars, Santa Cruz Guitar Company, Sony Creative Software, Sony Pro Audio, Tectonic Audio Labs, Chapman Stick, Guitar Workshop Plus, NuMuBu, Fender, Taytrix, Bob Cerceo, LKR, NAMM, and our producer TrueFire.
The Venue: Marriott Anaheim

The Marriott Anaheim hotel is conveniently located in the heart of the Anaheim Resort District. The Winter All Star Guitar Night was hosted in the Grand Ballroom with the Silent Auction accessible from the main hallway lobby.
The Players
Muriel Anderson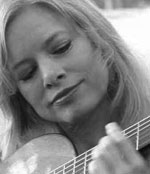 Founder and host of the ALL STAR GUITAR NIGHT® and founder of the Music for Life Alliance charity, Muriel Anderson is widely respected as one of the premier fingerstyle guitarists/composers on the scene today. She is the first woman to have won the National Fingerpicking Guitar Championship. She enjoys touring as is evidenced by her "recipes from the road" on her website. She uses GHS Muriel Anderson signature strings on both her guitar and harp guitar. www.murielanderson.com
Steve Adelson
Steve began his career as a guitarist, founding his Brooklyn, NY school, The Guitar Workshop in 1977. He purchased his first Stick in 1984, and has focused his performance activities on it ever since. Steve has performed at clubs, festivals and conventions all over the U.S., and has conducted seminars and workshops on the Stick in various U.S. cities and in Italy and is a regular columnist for Twentieth Century Guitar Magazine. www.steveadelson.com
Miles Aubrey
Miles Aubrey's career has allowed him to perform on such varied stages as the Ryman Auditorium, Grand Ole Opry, Broadway, The Tonight Show with Jay Leno and the Tony Awards. He is currently in the Broadway cast of Jersey Boys and can also be seen in Clint Eastwood's film adaptation. He's toured North America as a sideman for several major label country artists, and is active in the Nashville songwriting scene.www.milesaubrey.com
David Becker
For more than a quarter of a century, two time Grammy nominated guitarist, composer and producer David Becker has continued to define himself as one of the best and most unique voices in jazz and contemporary music by combining diverse influences and a passion for the new and different, and his ability to play for the present while always keeping an eye on the past and future. Together with his brother Bruce on drums, they have led the critically acclaimed DAVID BECKER TRIBUNE to a worldwide audience by performing in more than 20 countries. www.davidbeckertribune.com
Kenny Burrell
One of the leading exponents of straight-ahead jazz guitar, Kenny Burrell is a highly influential artist whose understated and melodic style, grounded in bebop and blues, made him in an in-demand sideman from the mid-'50s onward and a standard by which many jazz guitarists gauge themselves to this day. learn more
Eclectic Electric Guitar Trio
EEGT is rare blend of musicians with very diverse styles that blend perfectly together to create something unified and different. Alex Skolnick is one of the most diverse guitarists of his generation. Well known as the lead guitarist of the Bay Area thrash metal band Testament, he is equally adept as an improviser of jazz and world music. Jane Getter is "the fiercest fretboarding female ever to strap on a Stratocaster," according to Guitar Player Magazine. Bruce Arnold is an author, composer, educator and guitarist residing in New York City. www.eclecticelectricguitartrio.net
Mimi Fox
Internationally renowned guitarist/composer/recording artist Mimi Fox has been named a winner in 6 consecutive Downbeat Magazine international critic's polls and has been recognized by writers and colleagues alike as one of the most eloquent guitarists on today's scene. Mimi has performed/recorded with Branford Marsalis, Joey DeFrancesco, Diana Krall, Stevie Wonder and countless others. Guitar player magazine said, "Mimi is a prodigious talent who has not only mastered the traditional forms, she has reinvigorated them." www.mimifoxjazzguitar.com
Vicki Genfan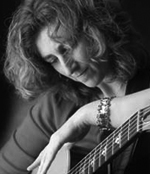 Vicki is a fiercely original musician, singer, composer. Transmuting jazz, funk and world music in a contemporary folk alchemy, Vicki draws from a diverse palette of harmonies, rhythms and modal tunings. Studied in both classical and jazz guitar, she has been featured on numerous recordings, radio and television. Vicki performs extensively to an ever-growing audience. In 2008, Vicki was awarded Guitar Player"s Guitar Superstar 2008 Award. www.vickigenfan.com
Shaun Hopper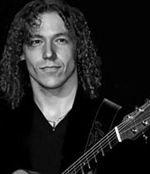 Acoustic fingerstyle guitar player/wizard Shaun Hopper is at first glance an unassuming presence, a true southern gentleman whose humility stands in sharp contrast to the prodigious talents he unveils on stage. Merging complex melodic lines, harmony and bass lines along with a one-of-a-kind percussive technique, he mesmerizes everyone within earshot. www.shaunhopper.com
Invented Like Stars
Invented Like Stars is a band born of Freedom, Expression, Creation, Invention..and Friendship.
After years of friendship, playing and touring together (and separately) with various superstars, the four members of Invented Like Stars came together to have fun. What started as pure improvisational exploration led to explosive collaboration, resulting in songs that cross genres and bend the lines of expectation. INVENTED LIKE STARS consists of Chris Johnson on drums, Tim Carmon on keyboards, Courtney Leonard on bass and Michael "Fish" Herring on guitar.
www.facebook.com/Inventedlikestars
Henry Johnson
Henry is an American jazz guitarist. His recording debut, "You're The One," achieved #1 status on both the Radio & Records NAC chart, and Contemporary Jazz chart for two months. In addition to his solo recording projects, Johnson has found time to record with the likes of Ramsey Lewis, vocalists, Joe Williams and Vanessa Rubin, and saxophonist Richie Cole, among many others. He has performed with Nancy Wilson, Marlena Shaw, Angela Bofill, and many other great jazz artists.www.henryjohnsonjazz.com
Laurence Juber
In the 1970s, Laurence spent three years recording and touring as lead guitarist of Wings. During that time he won a Best Rock Instrumental GRAMMY® for the track "Rockestra" from the album Back To The Egg. After Wings disbanded, he embarked on a career as a solo artist, composer and arranger, and soon developed a reputation as a world-class guitar virtuoso, being voted #1 by Fingerstyle Guitar magazine.www.laurencejuber.com
Scott Law
Scott Law may have been born in Southern California but his music pulls together traditions from every corner of the country. He has performed all over the world, but his music sounds like coming home. His latest album, Black Mountain, is all about his acoustic roots and the fiddle-driven string-band sounds of the Appalachian Southeast. www.scottlawmusic.com
Janet Robin
Janet Robin can be defined in a single word: musician. Many people attempt to make music, but few earn that illustrious title. Those in this business reserve that label for the rare individuals who consistently demonstrate a high level of talent, perseverance, taste and sensitivity over a period of time. To these people making music is not simply a pastime; it is a matter of blood and guts. www.janetrobin.com
Andy Timmons
As guitarist for pop-metal band Danger Danger, he toured the world opening for Kiss and Alice Cooper, sold over a million records worldwide, and had two #1 videos on MTV, plus amassing a discography that includes 7 solo releases that range from blazing guitar instrumentals, to blues, and even a Beatles/Elvis Costello-inspired collection of pop tunes. www.andytimmons.com
A Few Words from our Valued Sponsors
"All Star Guitar Night is always a fantastic celebration of guitar talent and the perfect venue to present Guitar Player Magazine's Legends award. Additionally, the sheer volume of marketing and promotion done around the event also serves to put our brand in front of literally thousands of guitar fans. It's a great show and a great cause!"  John Pledger, Music Player Network
"Year after year ASGN meets and exceeds our expectations for the level of excitement they create for a concert event.  Reverend Guitars proudly sponsors the show, and most importantly, our dealers consistently tell us it was the highlight of their NAMM experience."  Ken Haas, Reverend Musical Instruments
"Yamaha is proud to be associated with Muriel Anderson's All Star Guitar Night. Muriel and TrueFire always host an incredible show with an amazing lineup of incredible guitarist that come together for a worthy cause. For Yamaha and our top guitar dealers, the All Star Guitar Night is the highlight of the NAMM show!"  Dennis J. Webster, Yamaha Corporation of America
"All Star Guitar Night is truly one of the highlights the NAMM Show for our dealers and customers. It's like the Extreme Games for guitar players – it's always entertaining, and always delivers top-shelf exposure for our brand! We're very glad that Greg Bennett Guitars is a part of this industry standard."  John Hawkins, Samick Music Corporation
Thanks this show's generous sponsors!