About All Star Guitar Night
Saturday, January 25, 2014
Anaheim, California | Marriott Ballroom
Thank you so much for everyone who attended and supported the Winter ASGN show in Anaheim, CA. We had an amazing number of attendees both viewing the show and participating in the silent auction. Thank you to everyone who made this night happen and making it one of the most successful All Star Guitar Nights ever.
View Photos from this ShowWatch This Show
---
Sponsors
Yamaha Guitars presented this fabulous evening of music and entertainment. Also sponsoring were GHS Strings, Guitar Player Magazine, AER Amps, Rocktron, L.R. Baggs, Kyser Musical Products, Sony Pro Audio, Sony Creative Software, NAMM, and our producer, TrueFire.
The Venue: Marriott Anaheim

The Marriott Anaheim hotel is conveniently located in the heart of the Anaheim Resort District. The Winter All Star Guitar Night was hosted in the Grand Ballroom with the Silent Auction accessible from the main hallway lobby.
The Players
Muriel Anderson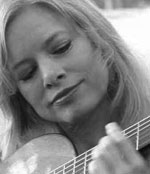 Founder and host of the ALL STAR GUITAR NIGHT® and founder of the Music for Life Alliance charity, Muriel Anderson is widely respected as one of the premier fingerstyle guitarists/composers on the scene today. She is the first woman to have won the National Fingerpicking Guitar Championship. She enjoys touring as is evidenced by her "recipes from the road" on her website. She uses GHS Muriel Anderson signature strings on both her guitar and harp guitar. www.murielanderson.com
Don Alder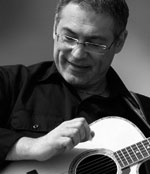 Don is known for creating a wall of sound with just an acoustic guitar making one believe he's hiding a 4 piece band. He currently is the only guitarist on the planet to win the two prestigious Guitar titles of 2007 International Fingerstyle Champion and recently crowned 2010 Guitar Player Magazine Guitar Superstar Champion. His unique style and energetic performances have been called intense, passionate and awe-inspiring. www.donalder.com
Cathy & Marcy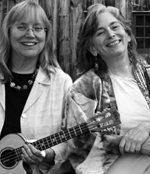 Two-Time Grammy® Award Winners, Cathy Fink & Marcy Marxer are a formidable powerhouse of sound, with a repertoire of traditional and contemporary folk, old-time country and swing music. Their superb harmonies are backed by instrumental virtuosity on the acoustic & electric guitar, five-string banjo, mandolin, cello banjo, ukulele, percussion and many other instruments. www.cathymarcy.com
Danny Gottlieb
Danny is one of the most popular drummers in jazz and contemporary music. While best known as the drummer in the original Pat Metheny Group, Danny, during the past 25 years, has performed and recorded with some of the world's greatest musicians. He also appears on over 300 cd's to date, including 5 GRAMMY winners. www.dannygottlieb.com
Stu Hamm
Stu has firmly established himself as one of the foremost technical masters of the bass guitar, and his performances with Steve Vai, Joe Satriani and the all-bass show BX3 have wowed audiences all over the world. It was playing live on tour with Satriani that brought Hamm's skills to national attention. Since then, he has recorded with Satriani and other rock/fusion artists and released his own solo recordings. www.stuarthamm.net
Daniel Ho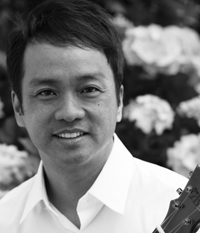 Daniel Ho's simple philosophy of presenting music with sincerity and artistry encompasses six consecutive GRAMMY Awards, number-one albums on national airplay charts, and top-ten albums on Billboard. In 2010, his solo ukulele CD, Polani (Pure), was the first ukulele album in music history to receive a GRAMMY nomination. On piano the following year, he received a nomination for Best Pop Instrumental Album for his CD, E Kahe Malie (Flowing Gently). Most recently, in 2012, Daniel's album On A Gentle Island Breeze was nominated for a GRAMMY in the World Music category. www.danielho.com
Monte Montgomery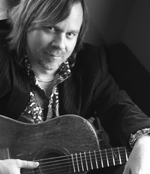 Named one of the "Top 50 All-Time Greatest Guitar Players" by Guitar Player Magazine, he's been called everything from "guitar-god" to the "answer to the Fermi Paradox". He also won the "Best Acoustic Guitar Player" award at the SXSW Festival's Austin Music Awards seven years in a row (1998–2004), the only artist to have ever done so.www.montemontgomery.net
Lee Ritenour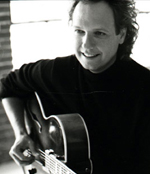 GRAMMY award-winning guitarist Ritenour received a rich cross section of exposure to jazz, rock and Brazilian music. From one of his first sessions at 16 with the Mamas and Papas to accompanying Lena Horne and Tony Bennett at 18, his 40 year eclectic and storied career is highlighted by a GRAMMY Award win for his 1986 collaboration with Dave Grusin, Harlequin; 17 GRAMMY nominations; numerous #1 spots in guitar polls and Alumnus of the Year award from USC. www.leeritenour.com
Howard Roberts Tribute Band
Some of LA's top session players will be performing a 5 Guitar Score of Howards' Bluesette arrangement. Jay Roberts (guitar) Tim May (guitar), Mitch Holder (guitar), Micheal Anthony (guitar), Bob Bain (guitar), Chuck Berghofer (bass), and Ralph Humphrey (drums) recorded this arrangement for the HOWARD ROBERTS PROJECT. A Documentary and Album dedicated to HR, featuring an All Star Cast of performers, in Honor of a True Guitar Legend. You can get more info on this project at RobertsMusicInstitue.com
Shaï Sebbag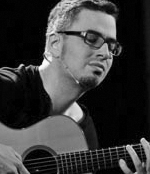 Shaï, known as "the french expert on partial capo" began learning guitar at 16 years old, self-taught. It begin with the classical music, then he discovered bossa nova and finally fingerstyle and jazz. In 2012, he played the International Guitar Festival of Issoudun, alongside Larry Carlton, Toure Kunda, Gareth Pearson and many others and in 2013, Shai was invited to the prestigious Festival Jazz Koktebel, Crimea, showing with Erik Truffaz, Nils Petter Molvaer, Omar Puente Quartet, The Hardkiss … etc. www.shai-sebbag.com
Omar Torrez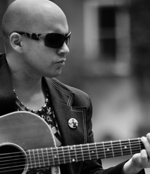 Omar Torrez's musical recipe is equal parts post-modern rock, Mexican and Cuban Son, gutbucket blues, spiced with stunning guitar wizardry and playfully irreverent songwriting. He first gained notoriety as a finalist at the Jimi Hendrix Guitar Competition at the Bumbershoot Festival, using a borrowed guitar. Since then, Torrez has won fans worldwide through international festivals and humanitarian work. www.omartorrez.com
Carl Tosten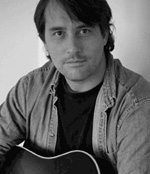 Carl is a musician whose style defies easy classification. With his strong and soulful voice and an eclectic & expressive guitar technique that includes percussion, tapping, multiple open tunings and capos, Tosten has been called an "acoustic one-man band." His live performances are filled with intense energy, stories, and songs that captivate and inspire his audiences. www.carltosten.com
A Few Words from our Valued Sponsors
"All Star Guitar Night is always a fantastic celebration of guitar talent and the perfect venue to present Guitar Player Magazine's Legends award. Additionally, the sheer volume of marketing and promotion done around the event also serves to put our brand in front of literally thousands of guitar fans. It's a great show and a great cause!"  John Pledger, Music Player Network
"Year after year ASGN meets and exceeds our expectations for the level of excitement they create for a concert event.  Reverend Guitars proudly sponsors the show, and most importantly, our dealers consistently tell us it was the highlight of their NAMM experience."  Ken Haas, Reverend Musical Instruments
"Yamaha is proud to be associated with Muriel Anderson's All Star Guitar Night. Muriel and TrueFire always host an incredible show with an amazing lineup of incredible guitarist that come together for a worthy cause. For Yamaha and our top guitar dealers, the All Star Guitar Night is the highlight of the NAMM show!"  Dennis J. Webster, Yamaha Corporation of America
"All Star Guitar Night is truly one of the highlights the NAMM Show for our dealers and customers. It's like the Extreme Games for guitar players – it's always entertaining, and always delivers top-shelf exposure for our brand! We're very glad that Greg Bennett Guitars is a part of this industry standard."  John Hawkins, Samick Music Corporation
Thanks this show's generous sponsors!