Muriel Anderson
Widely respected as one of the world's foremost fingerstyle guitarists and harp-guitarists, Muriel Anderson is the first woman to have won the National Fingerpicking Guitar Championship. She is host of the renowned "Muriel Anderson's ALL STAR GUITAR NIGHT®" and founder of the Music for Life Alliance charity.
Her facility across the genres of folk, classical, jazz, bluegrass and international music is revered by guitarists worldwide.  Her unique approach to the instrument virtually transforms the guitar into a lyrical choir, then a marching band, then a Japanese koto, then a Bluegrass band, one minute launching into a Beatles tune and the next, Chopin's Minute Waltz. Touring in the USA and internationally year round, she continually amazes audiences with her technique and endears them with her sense of humor. Recently she has teamed up with Germany's finest nouveau Flamenco duo, TIERRA NEGRA, adding a new dimension and excitement to her music. Visit her online at www.murielanderson.com
Recordings and Publications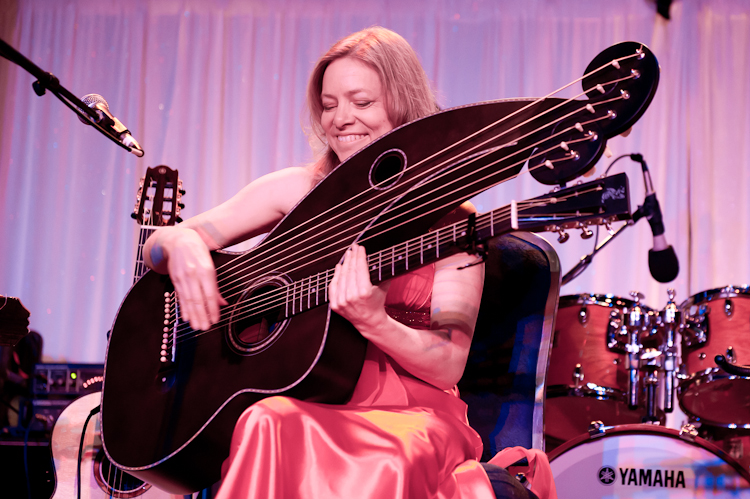 Muriel's recording of "El Noi de la Mare" appears in Woody Allen's film "Vicky Cristina Barcelona." and her "Heartstrings" recording accompanied the astronauts on the space shuttle Discovery.    Muriel Anderson has released eight instrumental CD's, instructional DVD's and guitar books published by Hal Leonard, Mel Bay, and Zen-On Japan.  Her compositions include commissioned classical works for the Nashville Chamber Orchestra and Vox Caelestis Womens Choir, as well as songs which have appeared as title tracks for three albums by various artists.
Endorsements
Muriel Anderson enjoys giving guitar workshops sponsored by her new GHS Signature strings. Muriel is a member of the advisory board for Mel Bay Publications, and was a winner of Acoustic Guitar's 2009 bronze level reader's choice award for "best classical guitarist." She plays many handmade instruments and endorses Morris Guitars in Japan, as well as Seymour Duncan D-Tar pickups.
Music for Life Alliance
Many of her concerts benefit the Music for Life Alliance, a charity founded by Muriel Anderson to help support music education for young people.  www.musicforlifealliance.com